IPO BOUTIQUE is one of the few syndicate services that provides ratings on all secondary offerings (Spots, blocks, marketed). We use our database of historical performances, underwriter trends and more than 40 years of syndicate experience to give our clients a leg up. We meticulously keep records of our ratings. If interested please click below to inquire or email: JZell@IPOBoutique.Com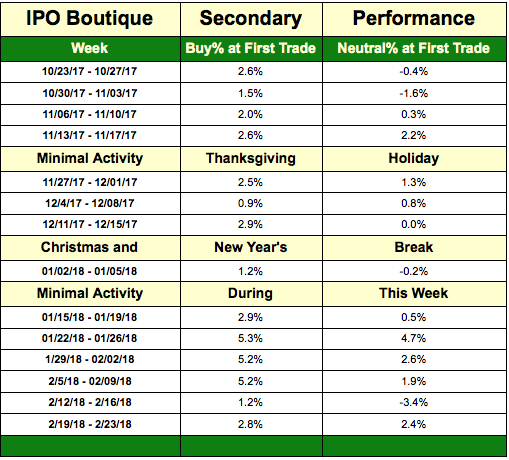 This past week 10 secondary offerings came to market and IPO Boutique placed BUY ratings on 6 of them. In all, $1.55bn was raised by companies in the secondary market this week.
The average gain of IPO Boutique BUY rated offerings this week at first trade was 2.8%
The average gain of IPO Boutique Neutral rated offerings this week at first trade was 2.4%.
The last 20 IPO Boutique 'BUY' rated secondary offerings have produced an average gain of 2.64% at first trade and an average gain of 7.8% at the high of their first-day of trading.
It was a relatively uneventful week for the secondary market as quantity was limited due to the holiday-shortened week. The largest cash raise this week was Shopify's (SHOP) $657.6m cash raise by pricing 4.8m shares at $137.00. The pricing was a 4.04% discount to the $142.78 last trade at launch and the deal opened down -0.2% and traded poorly — finishing the day -3.1%.
Healthcare offerings enjoyed solid debuts but most sold off almost immediately. Ascendis Pharma A/S (ASND), Aimmune Therapeutics (AIMT) and Dova Pharmaceuticals (DOVA) opened with gains of 7.0%, 8.4% and 3.1%. The same three closed their offering days' at 4.3%, -0.1% and 1.0% vs. their respective offering prices.
The strongest performer (closing price vs. offering price) of a cash raise greater than $20m was a SunTrust Robinson led deal, Ring Energy (REI), which finished +4.6% vs. its $14.00 offering price. It should be noted that Clearside Combustion (CLIR) had a strong debut with National Securities underwriting the $11.3m offering. The deal opened +6.7% and closed +9.8% vs. its offering price and thus skewing the average of the Neutral rated deals this week.
There are currently zero secondary offerings on the schedule for next week.