This past week 27 secondary offerings came to market and IPO Boutique placed BUY ratings on 15 of them. In all, $5.7bn in cash was raised by companies in the secondary market this week.
The average gain of BUY rated offerings this week at first trade was 2.1%
The average gain of Neutral rated offering this week at first trade was 0.8%.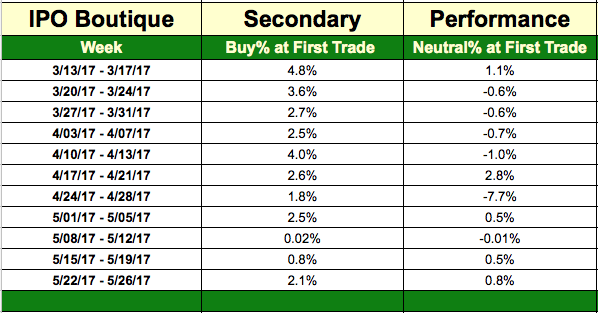 The last 20 IPO Boutique 'BUY' rated secondary offerings have produced an average gain of 1.88% at first trade and an average gain of 4.19% at the high of their first-day of trading.
The secondary market was as active as we have seen so far in 2017 as 27 offerings came to market including eleven deals that debuted on Thursday (5.25.17). The average discount offered this week was 3.74% vs the last trade and 19 of the 27 offerings opened above their offering price
The largest offering this week was an upsized $884.3m block from Quintiles IMS Holdings, Inc. (NYSE: Q) – block which included an element of share repurchasing by the company. The offering proceeded to price at the last trade and open $0.02 below the offering price. We gave this offering a Neutral rating. Among deals which raised more than $20m, the best performing offering this week was GlycoMimetics, Inc. (Nasdaq: GLYC) underwritten by Jefferies and Cowen. The healthcare company recently had positive news and syndicate buyers took advantage as the offering opened 22.6% higher than the $11.50 offering price. 'GLYC' traded as high as $14.80 and closed at an even $14.00 for a 21.7% return on its offering day. IPO Boutique had a BUY rating on the 'GLYC' offering.
Other offerings that performed well that IPO Boutique had BUY ratings on were Aerie Pharmaceuticals (Nasdaq: AERI) and BlackLine, Inc. (Nasdaq: BL) which opened 4.2% and 3.2% above their offering prices, respectfully.
There are currently no marketed secondary offerings scheduled for next week.